AKTUELLES
Aktuelle Unternehmensinformationen in der Übersicht.
In dieser Übersicht halten wir Sie über unsere aktuellen Projekte, Tätigkeiten und mehr auf dem Laufenden.
SLC Management reaches new strategic cooperation in China
Montag, Mai 10, 2021
Recently, SLC Management GmbH (hereinafter referred to as "SLC Management"), Guangzhou Gongming Sports Development Co., Ltd. (hereinafter referred to as "GM Sports") and TÜV Rheinland Greater China (hereinafter referred to as "TÜV Rheinland") reached a strategic cooperation agreement. The three parties will provide professional customized services - among others - in the areas of consulting, conception, training and service quality analysis and certification to various stakeholders of the Chinese football and sports market ranging from educational and public institutions to professional and amateur sports clubs. These services are enriched with international technical expertise of the three parties and specifically designed to the Chinese market.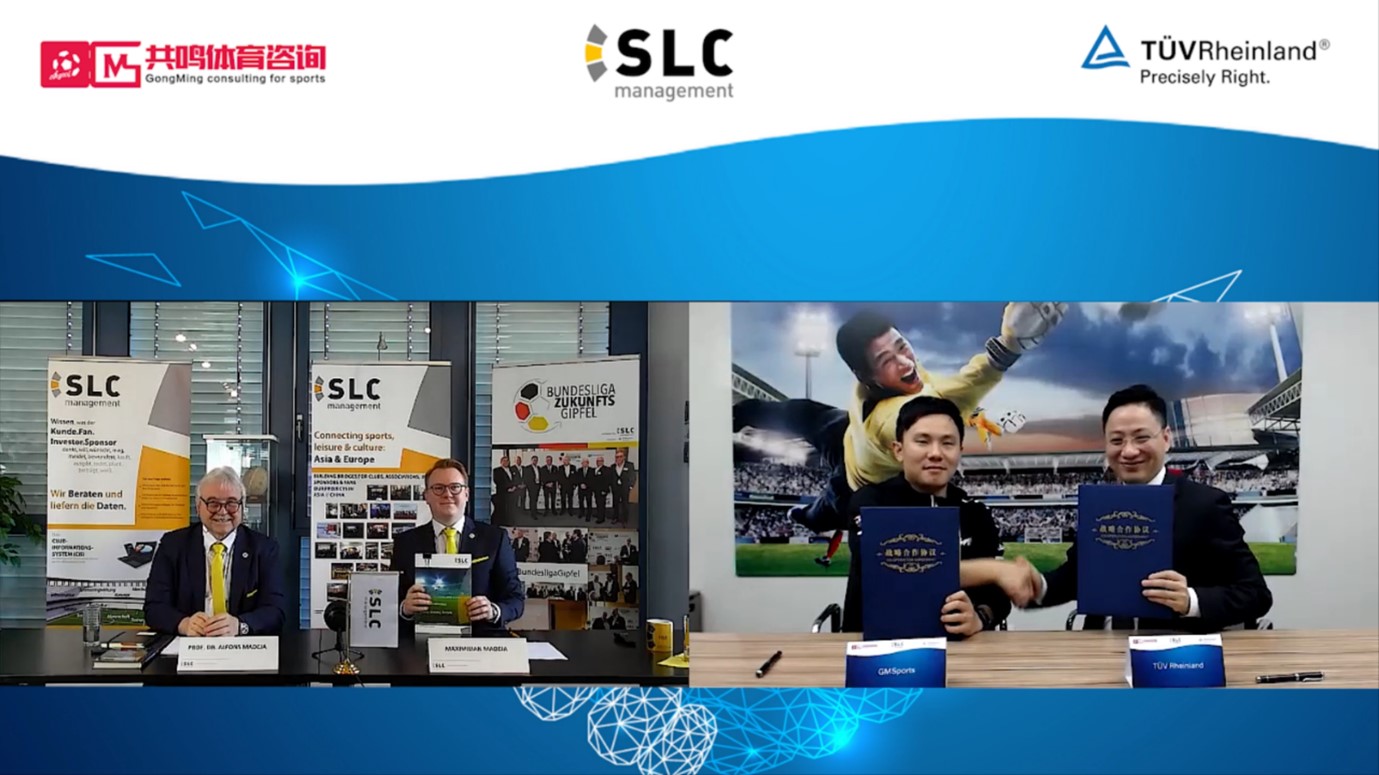 In the picture from left to right: Prof. Dr. Alfons Madeja, Chairman of SLC Management, Maximilian Madeja, Managing Director of SLC Management, Kawa Liang, Co-founder of GM Sports and Jesse Wu, Senior Manager of TÜV Rheinland Greater China Management Systems.

The cloud signing ceremony was attended by Kawa Liang, Co-founder of GM Sports, Prof. Dr. Alfons Madeja, Chairman of SLC Management, Maximilian Madeja, Managing Director of SLC Management and Jesse Wu, Senior Manager of TÜV Rheinland Greater China Management Systems.
According to the agreement, the three parties will make joint use of the technologies, experience and resources in their respective fields to form a Sino-German partnership to provide overall support for the development of China's football and sports industry.
Prof. Dr. Alfons Madeja said, "I have researched and developed club and sports management as Professor and consultant for over 30 years – today it is an honor to start a cooperation with GM Sports Airgoal and TÜV Rheinland. The further development and support of the professionalization of the development in sports in China on all levels starting from the grass-roots at a school level to professional clubs of the Chinese Super League, is perfect to be done in such a Sino-German alliance."
"SLC Management Germany has a rich over 30 years old international experience, working for all kind of institutions in sports in making their business and infrastructure more successful and more sustainable. We started executing these services in China 6 years ago with an excellent acceptance in the market. Now is the time that we will bring our experience into this Sino-German cooperation on a broader scale to enhance synergies and to raise potentials within China," Maximilian Madeja added.
Kawa Liang said, "GM Sports is rooted in China, but has a global view. It has established extensive cooperation relations with sports education departments, universities and clubs in China and beyond. Its services include among others the supply of training products, establishment of a youth training club management system, research in the football industry, cultivation of football culture in campuses. With the rich experience in providing practical services, we have realized that it is urgent for China to establish an advanced, scientific and industrial ecological system for the football industry that conforms to the law of development of the global football industry. We are excited that through the cooperation, the advanced German football ecosystem will be introduced to China so that China's football industry can follow the development path of a global football power."
Jesse Wu said, "As an international third-party testing and certification organization with a history of nearly 150 years, TÜV Rheinland has been rooted in China for 30+ years and is committed to providing support for Chinese products to enter the global market. Meanwhile, it hopes to introduce the advanced international management experience, technologies and resources to China. In the future, the three parties will work together to contribute to the strong and successful development of China's football industry and even the pan-sports industry."
About GM Sports
Guangzhou Gongming Sports Development Co., Ltd. was established in Guangzhou in 2015. It is a professional authority with an international perspective. It is mainly engaged in football culture research and application, sports business management and consulting, sports talent training and brokerage, and sports service supply management and sales and other services.
The company adheres to the business philosophy of "One industry, diversified development, with global view, and rooted in China". Over the years, it has developed close cooperation with more than 500 local government organizations, well-known sports institutes, elite clubs, etc., and has been widely recognized and praised by a wide range of customers. It has successively become the vice president unit of the Youth Sports Club Branch of the National Sports School Federation and the brand incubation cooperation unit of the Guangdong Provincial Football Association Social Football Youth Training Organization.
About SLC Management
SLC Management GmbH, Germany, is a leading consulting and market research company in the fields of sports, leisure, entertainment and culture economics and management. Through consolidation of more than 30 years of research and practical experience in over 40 countries worldwide, and utilization of new perspectives through data intelligence and analytics, SLC Management is dedicated to provide holistic and customized solutions to clubs, associations, governmental institutions, companies, sponsors, venues and service providers in sports, leisure and culture around the world.
Following the company credo of "Fact-based consulting", SLC Management incorporates Sino-German knowledge, global expertise and target-oriented data into its consulting and research services like among others business strategy and concept development, organizational change, process management, data intelligence, digitalization and transformation, internationalization, sponsoring conception and controlling, marketing and brand management, finance and value management, customized studies and analysis and infrastructure management.
SLC Management is TÜV Rheinland's global strategic partner in the sports industry.
About TÜV Rheinland Greater China
An internationally leading independent third-party testing, inspection, certification, training, and consulting organization, TÜV Rheinland has nearly 150 years of experience and employs more than 20,000 people worldwide. TÜV Rheinland employs over 4,000 people in the Greater China region, and operates in five Business Streams: Industrial Services & Cybersecurity, Mobility, Products, Academy & Life Care, and Systems. The group is involved in all important areas of business and life. This starts with the energy sector and the consumer goods industry, and includes the automotive industry, basic materials and investment goods, environmental technology, trade, construction, the food industry, aviation, railway technology, the IT sector, information security and data protection, logistics, banks and financial service providers, agriculture, tourism, as well as the education and healthcare sectors. TÜV Rheinland has long been synonymous with rigorous high-quality testing and certification services and provision of a diversity of professional assessments from an impartial and independent perspective. We provide local companies with one-stop solutions that comply with safety, quality, and environment-friendly requirements.
---
Media coverage & clipping
Video coverage of the signing ceremony:
Published on (extract):

---
For more information please contact
Maximilian Madeja
Managing Director, Chief Research Officer (CRO)
E-Mail: m.madeja@slc-ag.com

Fon: +49 (0) 911 - 54 81 830
Auszug unserer Referenzen.